2019-2020 OPEN HOUSE & TOURS
Fall Open House - Sunday, October 27th, 1-3p.m.
Catholic Schools Week Open House - Wednesday, January 29th, 9-11a.m.
Walk-In Wednesdays - Prospective Parents may visit us any Wednesday between 9 a.m.-11 a.m. for a tour. No appointment needed.
We know your time is valuable and you may have other commitments so give us a call and we will be happy to schedule an appointment to share our school with you. Children are always welcome to accompany you on a tour.
Arrangements may be made for a prospective student in grades 1-7 to shadow with a St. John student, of the same grade, for a day.
To request more information about St. John Regional Catholic School, please inquire today or contact our Enrollment Director, Mrs. Kathy Kinsey, at 301-662-6722 or email Kkinsey@sjrcs.org.
Prospective families for the 2020-2021 school year are encouraged to attend our Early Education Open House with Mr. Jon, March 27th.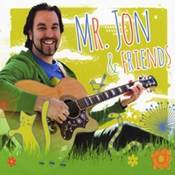 Doors open at 8:45a.m. The performance starts at 9a.m.
Mr. Jon & Friends makes music for kids and their families that inspire fun, laughter, and dancing. The music of Mr. Jon & Friends is sure to bring a smile to your face! Mr. Jon is a Parents' Choice Award winner, and he now plays over 100 shows a year.
Then join us for the Early Education Open House (pre-k-1st grade) at 10a.m.
Take the opportunity to tour the school, visit the classrooms, meet the teachers, and see what St. John has to offer your child.