UPPER SCHOOL (GRADES 5-8)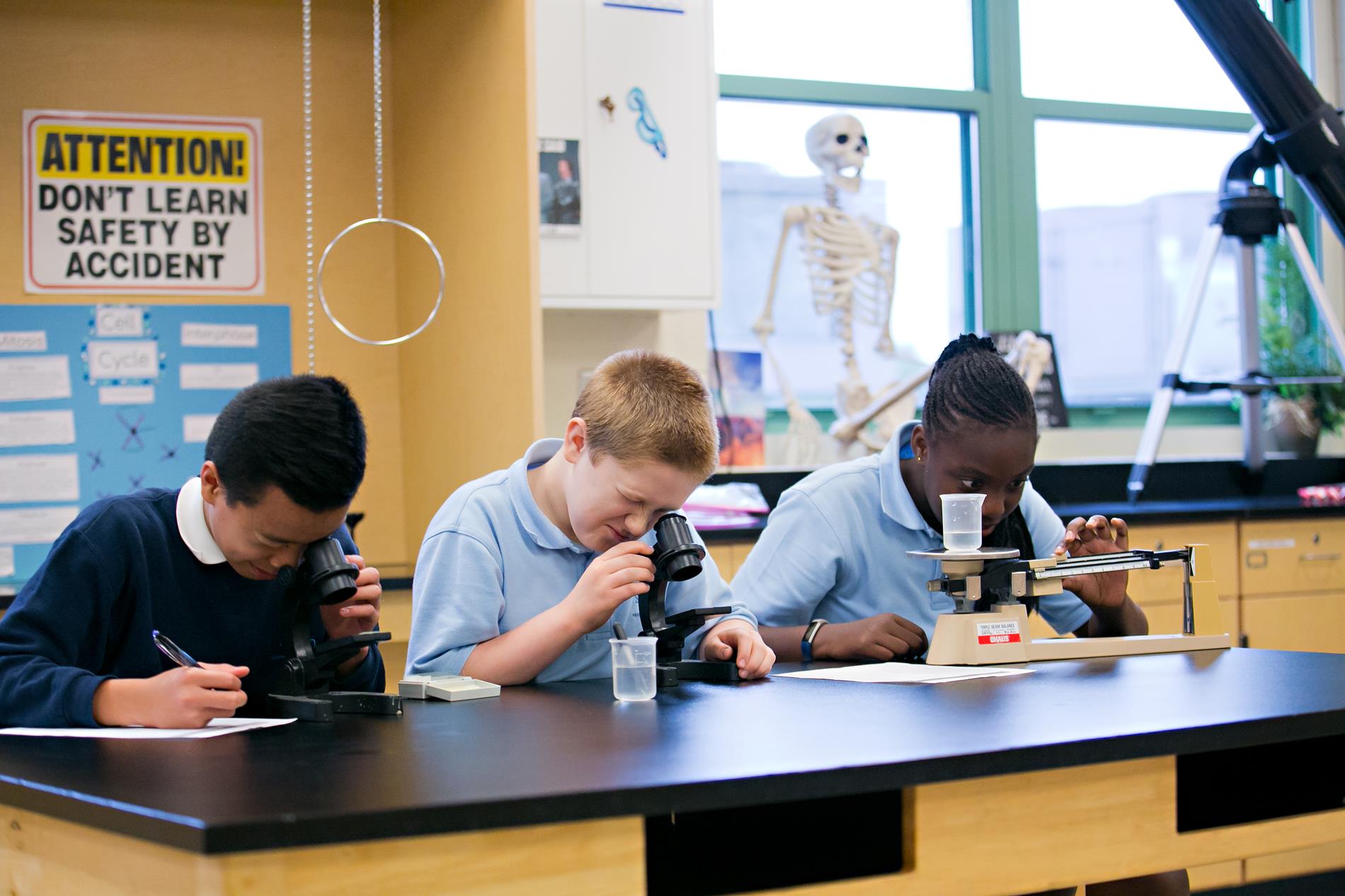 Students in grades 5th–8th learn in a departmentalized setting taught by teachers who specialize in particular subject areas. A cross-curricula team approach is used in our upper school program.
Students at St. John Regional Catholic School are prepared in every way for quality high schools. Technology integration is achieved through project-based learning, and a 1:1 Chromebook initiative that includes digital textbooks for subjects in grades 7 & 8.
In language arts, students learn to apply and refine writing, critical thinking and analytical skills across academic studies.

SPECIAL EVENTS & PROGRAMS
Archdiocese of Baltimore Spelling Bee Competition Grade 5-6)

North Bay Environmental Camp (Grade 6)

Student Council (Grades 6-8)

Trout in the Classroom (Grade 7)

Junior Achievement Finance Park (Grade 7)

National Junior Honors Society (Grade 8)
Subject Areas
Religion
Mathematics
English Language Arts
Social Studies
Science
Special Subjects
RELIGION
The Catholic faith is taught each day to all students at SJRCS. Students reach a deeper understanding of the faith through instruction that focuses on each and every student realizing their importance as a child of God. Across the grades, students are taught prayers, Bible stories, how to use a Bible, the parts of the Mass, the importance of God, Jesus, Mary, and the saints in their lives, and the basic teachings of Jesus. The students at SJRCS attain an appreciation for the history of our faith through a church history course, will create awareness to the foundations of the faith through examination of our creed, and continue to grow as Christian individuals as they examine morality and how to apply it in their everyday lives. Students regularly participate in service projects as they reach out to those less fortunate than themselves to fulfill their obligation to those Jesus speaks of when he said: "Whatsoever you do to the least of my people, you do unto me."

Text Books: Students in grade 5 use the Alive in Christ series by RCL-Benziger. Grades 6-8 use Christ Our Hope. All students use the RCL-Benziger, Family Life series.



ENGLISH LANGUAGE ARTS
Revised in 2014, the English Language Arts Curriculum for the Archdiocese of Baltimore is designed using the Catholic, College and Career Ready clusters as its foundation. Through literature, this course of study fosters students' Catholic identity, shaping them to be models of Christian living for others. We provide students with a curriculum that is rigorous and rich in literature, oral and written language, grammar, writing, vocabulary, informational literature, and multimedia/technology. In a typical school day, approximately two hours is devoted to instruction in language arts in each classroom. Developing a strong literacy foundation is a top priority at SJRCS.

In the upper school, students attain the necessary skills to become excellent writers. There is emphasis on grammar structure and writing to define the elements of plot and demonstrate the ability to write autobiographies and plays. Students in the upper grades write research papers utilizing MLA format and continue developing basic skills as they continue to learn about writing conventions and correct grammatical mechanics.


Text Books: Zaner-Bloser handwriting is used in grade 5.
Voyages in English are the grammar books used in grades 5-8.
Students in grades 7 and 8 use a literature anthology by Prentice-Hall plus the Collection reading series also by Houghtin Mifflin.
Preswick Home books are used in grades 7 and 8. At all grade levels, textbooks are supplemented by trade books.


By the completion of fifth grade, students will master a variety of skills including:
Demonstrate a command of the conventions of standard English grammar and usage when writing or speaking.
Summarize a written text read aloud or from information presented in a variety of media and formats, including visual, quantitative, and oral.
Determine a theme of a story, drama, or poem from details in the text, including how characters in the story or drama respond to challenges or how the speaker in a poem reflects upon a topic and be able to summarize the text.
Write arguments to support claims in analysis of substantive topics or texts using valid reasoning and relevant and sufficient evidence.
Conduct short research projects that use several sources to build knowledge through investigation; additionally, produce more substantial research projects demonstrating understanding of the subject.


By the completion of sixth grade, students will master a variety of skills including:

Use of the process in research writing.
Use of the process in essay writing.
Voice and tone in writing emphasized.
More Focus in Fiction, Genre, and Literary Elements.
Use of Grammar integration.
Collaboration, oral presentations, speeches, and technology components incorporated regularly.


By the completion of seventh grade, students will master a variety of skills including:

Students will be able to write routinely over extended time frames (time for research, reflection, and revision) and shorter time frames (a single sitting or a day or two) for a range of discipline-specific tasks, purposes, and audiences.
Students will analyze the main ideas and supporting details presented in diverse media and formats and explain how the ideas clarify a topic, text, or issue under study.
Students should demonstrate understanding of figurative language, word relationships, and nuances in word meanings.
Students should acquire and use accurately grade-appropriate general academic and domain-specific words and phrases; gather vocabulary knowledge when considering a word or phrase important to comprehension or expression.

By the completion of eighth grade, students will master a variety of skills including:

Students use their knowledge of word origins and word relationships, as well as historical and literary context clues, to determine the meaning of specialized vocabulary and to comprehend the written word.
Students read a good representation of narrative and expository text (e.g., classic and contemporary literature, magazines, newspapers, online information).
Students write clear, coherent, and focused essays. The writing exhibits students' awareness of audience and purpose. Essays contain formal introductions, supporting evidence, and conclusions.
Students progress through the stages of the writing process as needed.
Students write and speak with a command of Standard English writing mechanics including correct grammar and usage that is appropriate to this grade level.



MATHEMATICS
Revised in 2013, the curriculum for all elementary schools in the Archdiocese of Baltimore include the following units:

Counting and Cardinality
Operations and Algebraic Thinking
Measurement and Data
Numbers and Operations in Base Ten
Geometry
Numbers and Operations



By continuing to implement new standards that are challenging, we work to fulfill the promise of quality Catholic education that educates the whole child, both mind and soul. Starting in fourth grade, students are ability grouped by class for math lessons. This is done using a teacher constructed matrix of scores and other indicators to determine proper placement. Movement between the two groupings is designed to be fluid to meet the changing needs of our students. Students' math performance is established through the examination of the standards of concepts, computation, and problem solving. Each lesson and activity addresses these specific standards to gain a well-rounded picture of the student's progression through our math curriculum.

In middle school, accelerated students are offered an Introduction to Algebra and Geometry course in the seventh grade and then have the potential to take high school algebra in the eighth grade.



Text Books: McGraw Hill, My Math mathematics is used in grade 5. Glencoe Mathematics texts are used in grades 6, 7, and 8.

By the completion of fifth grade, students will master a variety of skills including:

Write and interpret numerical expressions.
Perform operations with multi-digit whole numbers and with decimals to hundredths.
Convert like measurement units within a given measurement system.
Geometric measurement: understand concepts of volume and relate volume to multiplication and to addition.
Graph points on the coordinate plane to solve real-world and mathematical problems.
Classify two-dimensional figures into categories based on their properties.

By the completion of sixth grade, students will master a variety of skills including:

Understand ratio concepts and use ratio reasoning to solve problems.
Reason about and solve one-variable equations and inequalities.
Represent and analyze quantitative relationships between dependent and independent variables.
Solve real-world and mathematical problems involving area, surface area, and volume.
Develop understanding of statistical variability.

By the completion of seventh grade, students will master a variety of skills including:

Analyze proportional relationships and use them to solve real-world and mathematical problems.
Use properties of operations to generate equivalent expressions.
Solve real-life and mathematical problems using numerical and algebraic expressions and equations.
Draw, construct and describe geometrical figures and describe the relationships between them.
Use random sampling to draw inferences about a population.
Investigate chance processes and develop, use, and evaluate probability models.

By the completion of eighth grade, students will master a variety of skills including:

Know that there are numbers that are not rational, and approximate them by rational numbers.
Work with radicals and integer exponents.
Understand the connections between proportional relationships, lines, and linear equations.
Define, evaluate, and compare functions.
Understand congruence and similarity using physical models, transparencies, or geometry software.
Understand and apply the Pythagorean Theorem.


In addition, advanced eighth grade students are offered a higher level course in Algebra. Course of study includes the following:
Relationships Between Quantities and Reasoning with Equations
Linear and Exponential Relationships
Descriptive Statistics
Expressions and Equations
Quadratics Functions and Modeling



SCIENCE
Through close inquiry of life, earth, and physical science, students at SJRCS are given the opportunity to view the world in a different light. Across the grade spectrum, students begin to establish core knowledge in science topics as they discover various topics such as the food chain, plant cycle, sources of energy, weather, the solar system, rocks, land forms, and simple machines. Students are further able to experience the vast world of science as they utilize the state of the art science lab located on the SJRCS campus.

Fifth Grade -General Science
Sixth Grade -Earth Science
Seventh Grade -Life Science
Eighth Grade -Physical Science

Text Books: Grade 5 use Pearson/Scott Foresman Science 2010 series. Grades 6-8 use the Digital Techbook through Discovery Education, Life Science, and Physical Science. All students have access to a digital textbook through Discovery Education.



SOCIAL STUDIES
Social Studies at SJRCS combines elements of history, geography, economics, and political science. Through a variety of instructional methods, students attain a conscious awareness of themselves as individuals and the community and culture in the world around them. All grades deal with the development of map skills, interpretation of graphs and chart data, and cause and effect. The concentration on note taking, research, and the analysis and synthesis using as much primary source information is the focus in the upper school. Students are also extremely fortunate to attend a school located in an area of the country rich in history, which allows local topics in this area to come alive.

Text Books: Pearson, Building a Nation is used by the grade 5. Grades 6-8 use the Techbook provided through Discovery Education.


TECHNOLOGY
Weekly instruction in our fully networked computer lab, science lab, and makers space provides, to provide students with the skills necessary to utilize technology in other studies. All classrooms also have computers for student use. Students in grades 7 and 8 participate in a 1:1 computing initiative using Chromebooks.


STEM
St. John Regional Catholic School was one of the first schools designated a STEM (Science, Technology, Engineering and Math) school by the Archdiocese of Baltimore, due to our advanced curriculum in these areas. We also hold a STEM Endorsement from Notre Dame University of Maryland. The STEM program prepares children for the challenges and opportunities awaiting them in the evolving areas of Science, Technology, Engineering and Math.


ART
Grades 5-8 receive weekly instruction in our well-equipped art lab. The art room kiln makes it possible to include pottery lessons. The program helps support regular classroom content. Community outreach endeavors include competitive art contests and programs.


MUSIC
Grades 5 – 8, receive weekly instruction, with emphasis to learn music notation and music history, as well. Students in grades 5-8 may also participate in weekly instrumental band instruction (for a fee) with an instrument of their choice. Upper school students may also join the Chorus or Hand-bell Choir.

Text Books: All grades use McGraw Hill, Share the Music



PHYSICAL EDUCATION During gym class at St. John we focus on working together as a team. Each week we strive to become stronger by performing push-ups and sit-ups with our focus on learning proper technique. During class activities it is important that students work together and encourage one another through teamwork and good sportsmanship. Each week one class is rewarded on how well they perform together as a team. As Catholics, our focus is to learn that people are different and to respect those differences is important even through physical fitness.



SPANISH
Students in grades 5-8 will have Spanish as a weekly special.


SPECIALS
All students in grades 5-8 receive weekly Physical Education, Art, Music, Computer, and Spanish.
Ready to Explore St. John Regional Catholic School?
Located in Frederick, Maryland St. John Regional Catholic School is a private Catholic school for students in preschool through Eighth Grade. To learn more about our school and the admissions process for the upcoming school year we encourage you to contact our Admissions Office.