St. John Regional brings students back full time with precautions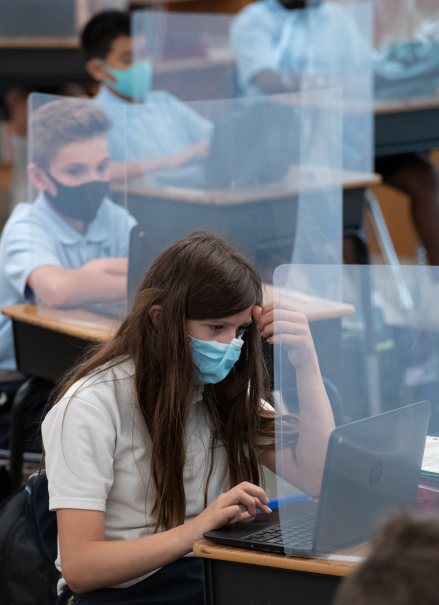 ---
While most schools across the county have opted for either a virtual or hybrid model of education this semester, St. John Regional Catholic School (SJRC) is practically back to normal, operating full hours, five days a week with most children back in classrooms.
The school, located off Opossumtown Pike, is a private Catholic school serving children from pre-K through eighth grade. The school currently has about 480 students enrolled, said principal Annette Marie Jones.
They decided to return students to the building full time this semester because they felt like they could make it work safely, Jones said. Using guidance from the Center for Disease Control and Prevention (CDC) and the Archdiocese of Baltimore — of which the school is a member —staff worked throughout the summer to survey families and teachers, measure classrooms within the building, clear out extra clutter to maximize space, and even made sure all bathrooms had automatic faucets and toilets.
Families were given the option of returning to school fulltime or staying virtual, and according to Jones, about 33 percent of families opted for virtual learning.
Edith Azane, a parent of third- and fifth-graders at SJRC decided to stay virtual. For herself and her family, there are still too many unknowns about the virus.
"My mom [lives] with us, and she is high-risk ,and so we try to take all kinds of precautions," Azane said. "There's still no real cure out there, and things haven't really changed from when it all started. If I myself am scared of going out, why would I want to send the kids to school?"
Although virtual learning can be challenging at times, Azane said her children are getting used to it and that the staff of SJRC has been instrumental in making sure distance learning goes smoothly.
For virtual learners, they are in class every day along with everybody else, just from a screen. Each classroom in SJRC has been retrofitted with technology to make sure kids from home can learn synchronously with their in-person classmates.
It takes a little more planning than usual from a teacher's end, said Alex Kusznir a seventh- and eighth-grade math teacher, but it's nothing that can't be fixed by a few adjustments here and there.
When the school first announced it would be returning full-time, Kusznir said she was a little nervous because she didn't know how everything would work.
"I immediately thought of students trading masks or running around and bumping into each other. So, I don't think I was totally on board with it until I saw it in action, and I saw the kids are being pretty good about it," she said.
And the kids are being good about it, even the youngest ones, said Michele Kavanagh, who teaches a pre-K class for 4-year-olds. The children in her class are spaced out, two at each table, wear their masks most of the day, and have their own yoga mats, which are used as a play space. They also each have their own bucket of toys and school supplies.
"When we have to get in line, they know to put their hands out so they can stay apart, and we have markers along the floor to help them learn...it's a part of who they are right now, which is a little bit sad, but they don't fuss at it all. It really amazes me," Kavanagh said.
She was also a little nervous at first about coming back to school, but knew she needed to be there for her students. Being in school around their friends and their teachers is critical at this age, Kavanagh said, and sometimes she worries that her virtual learners are missing out.
"I find it very hard for [virtual learners] to be at home because they are not experiencing the small conversations that we're having, the social and emotional part of being together in a class. It's so important at this age," she said.
Not all teachers, like Kavanagh and Kusznir decided to return though. Jones said there were a few, who for personal or family reasons decided to either retire or resign. Those staff members then had to be replaced, but Jones said it wasn't difficult to recruit new employees.
"It was an interesting time because we found there were so many teachers who wanted to work in-person with students," she said.
The students who decided to attend SJRC in-person were divided into groups based on their grades. Each group was assigned a space or a classroom in the building, and students stay at their assigned desks — each has a sneeze guard around it — all day while teachers for different subject's filter through. Students either bring their own lunch or order online from the cafeteria, and meals are delivered to them individually packaged. They also are allowed mask breaks in the gym or outside, but must maintain social distance.
Each student, or their parent, must complete a daily wellness check in the morning, and each student's temperature is checked upon arrival. If a student or staff member were to present symptoms of COVID-19 while in the building, there is an isolation room, and they would be sent home for further evaluation by a doctor or health professional, said school nurse Lisa Kaempfer.
So far, the school has been fortunate in terms of people getting sick.
"Presumptive positive, we've had a few, and the parents have been great about it, and they've gone and gotten evaluated and come back when they needed to come back, but we have not had a positive yet," Kaempfer said.
Henry Brown, a fifth-grader, said he was nervous about getting sick, but now he doesn't worry about it so much.
"It's kind of just something I've gotten used to, and sometimes I forget I'm even wearing [a mask]."
Josie Patil, a seventh-grader, said mask wearing is not hard to adhere to, it's remembering all the other restrictions.
"It's easy to wear the mask, but sometimes it's hard because we're not allowed to share supplies or lend someone something, so sometimes that's hard to remember," she said.
The first term for SJRC ends in November, and Jones said that as of now, the school plans to operate in this manner for the remainder of the school year. Families who are virtual, school employees said, may decide to return to in-person as the year goes on.