Drop-in STORY-TIME for TOTS

All 2, 3, & 4 year olds are welcome to join us for story-time with a STEM activity from 8:30-9:30am once a month during the school year. Refreshments will follow! The program is free and open to the community. Children must be accompanied by a parent.

For more information, contact Kathy Kinsey at the school at 301-662-6722 or kkinsey@sjrcs.org. Our school is located at 8414 Opossumtown Pike, one mile north of FCC.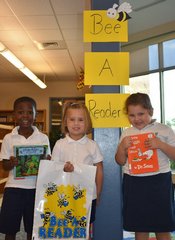 Story-time will be held at 8:30 a.m. in the media center on the following dates with these themes for the 2019/2020 school year:


September 16th- Happy Camper

October 21st- Makerspace Mania

November 11th: Busy as a Squirrel

December 9th: Christmas in the Manger

January 13th- Snowy Days

February 10th: We Love Hearts

March 9th: It's So Egg-citing

April: no story-time

May 11th: Donut Dance