STEM (SCIENCE, TECHNOLOGY, ENGINEERING, AND MATH)
STEM MISSION
The mission of the SJRCS STEM program is to prepare and inspire all of our students to become critical thinkers through the use of problem-solving and project-based learning in order to develop students with confidence and aspirations in the areas of Science, Technology, Engineering, and Mathematics.
The Mission of the SJRCS STEM initiatives is to allow our students the opportunity to:
ENGAGE by inviting them to wonder about the world around them
EXPLORE through hands-on and minds-on activities
EXPLAIN through reflection, analysis, modification, and justification
EXTEND through solidification, expansion, and real life application
EVALUATE through demonstrating evidence of knowledge in order to develop students with confidence and aspirations in the area of STEM advancement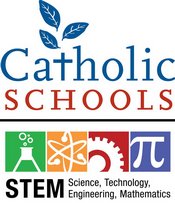 THE VISION OF THE STEM PROGRAM
To plan and execute our own in-house science/STEM fair annually
To correlate real-life applications with classroom experiences.
To form partnerships with the community at large that will ultimately prepare our students to become the nation's new problem solvers and innovators.
To provide teacher training and support.
To encourage the sharing of ideas across disciplines and achieve interdisciplinary collaboration.
To integrate Core Curriculum Standards with all subject areas as they relate to STEM.
To increase the number of project-based experiences students in grades K-8 will participate in.
STEM FAIR
All SJRCS Scientists, Technology Wizards, Engineers, Mathematicians, and Inventors gather together every March for the annual STEM Fair. Students in grades Pre-K4 - 8th are welcome to participate in this annual STEM event. Grades are invited to participate by working on a S.T.E.M. project at home, and displaying it proudly at the fair for the whole school to see.
Click here to view STEM video