LOWER SCHOOL (GRADES K-4)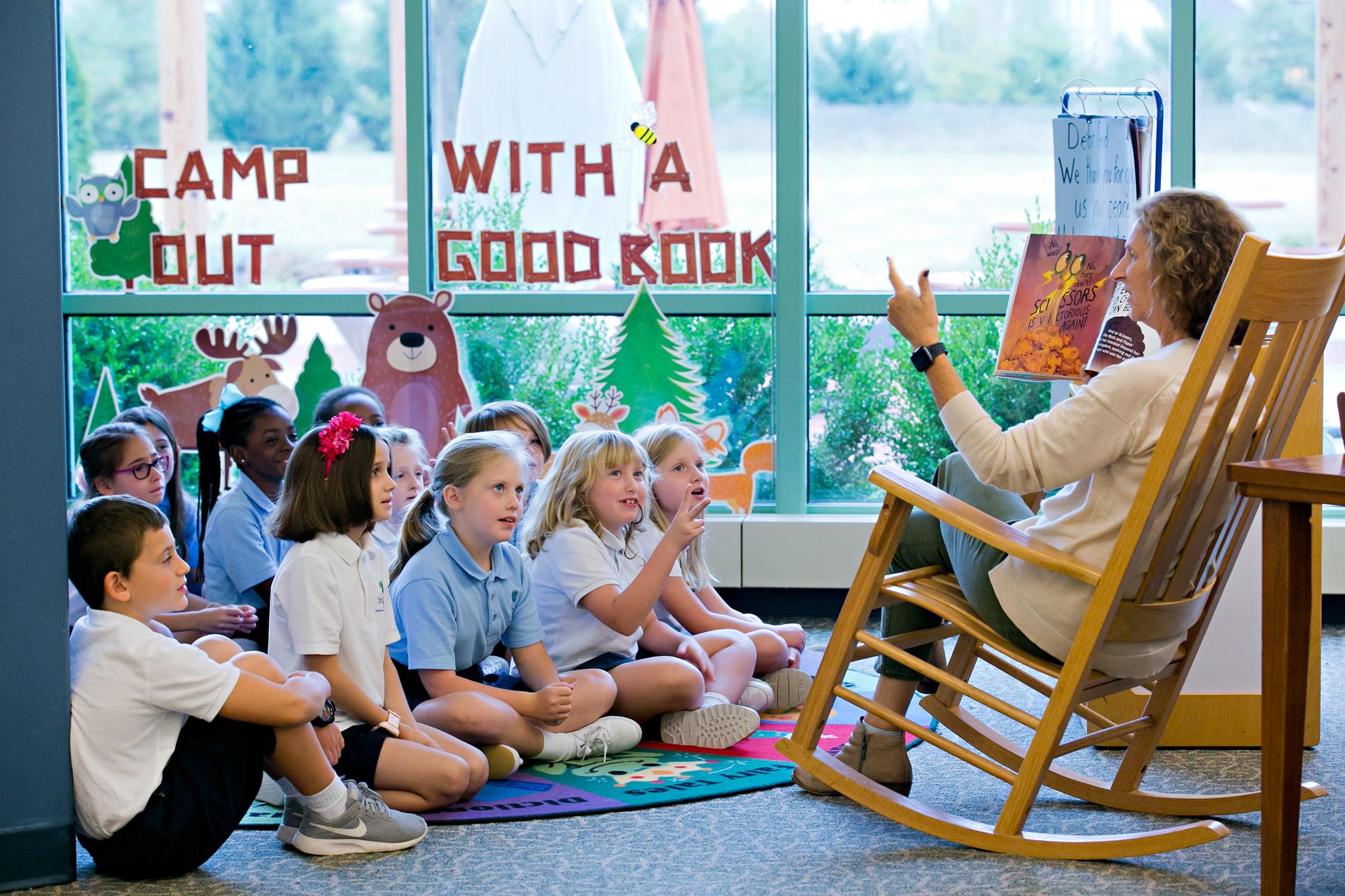 A variety of strategies and projects are used to teach the academic subjects. These include: analyzing, writing, memorizing, performing, summarizing, sequencing, interpreting, and critical thinking. Special activities include: creating stories, poems, book reports, essays, recitations, dramatizations, and dioramas.
Specialized instructors in art, music, library, technology, and physical education supplement instruction by classroom teachers.
In language arts, students' progress from basic writing skills to full expression, from the ability to read to a love of reading. They receive continuing instruction in grammar, spelling, capitalization and punctuation and are also exposed to increasingly challenging literature in a full range of writing styles, topics and cultures.
In math, students develop number sense beginning with an emphasis on basic math facts. Manipulatives are used in mathematics to facilitate concept development and logistical reasoning, and to apply mathematics to problem solving.
Grade by grade, students' knowledge and skills become more sophisticated.
SUBJECT AREAS:
Religion
Mathematics
English Language Arts
Social Studies
Science
Special Subjects
KINDERGARTEN CURRICULUM
St. John Regional Catholic School follows the Archdiocese of Baltimore Curriculum Standards which are aligned with national standards. Kindergarten emphasizes teaching children a love of learning through developmentally appropriate hands-on activities for growing socially, academically, spiritually and physically.
In order to enter Kindergarten at SJRCS a student must be 5 by September 1st.


READING PROGRAM
Kindergarten Curriculum (full day)
The SJRCS Kindergarten program uses Superkids by Zaner-Bloser as a comprehensive core reading program. This program effectively teaches children how to read, so by the time they leave the primary grades they are fluent readers and nothing can hold them back. Superkids is built on systematic phonics, balances all five essential elements of reading, and integrates reading, writing, spelling, and grammar. Students use Zaner-Bloser Handwriting curriculums.
With leading-edge digital tools and results-driven instruction, we utilize the Superkids reading program that has a rigorous instructional design. The unique close reading routine builds better readers while also providing intervention for struggling students. Easy organization, proven instruction, and exceptional differentiation set SuperKids apart as the reading curriculum of choice for educators across the nation.
The program includes:
Common core-based instruction integrated into every unit and lesson.
Digital learning tools, including mobile apps and interactive whiteboard lessons.
Scaffolding and differentiation to meet the needs of all students.

MATH CURRICULUM
"My Math" is the program that SJRCS follows for our Kindergarten math curriculum. This program combines fresh teaching approaches with components that offer everything needed to address the rigors of new standards and assessments. "My Math" helps children interact with lessons in new ways as they record their strategies, explanations, solutions, practice, and test prep right in their books. "My Math" contains a practical, point-of-use support that is built into each lesson so all learners, advanced children or those needing extra support, can achieve success in the classroom.
September-December – Intro to Geometry:
Two-Dimensional Shapes
Model, read and write numbers 0-5
Compare and order numbers to 5
Represent, compare and order numbers 6-10
Addition and subtraction
Compose and decompose numbers
Count to 100 by 1's and 10's.
January-June – Geometry, Data and Patterns
Sorting and data
Three-Dimensional Shapes
Positions and Patterns
Three-Dimensional Shapes
Measurement – Getting ready for Grade 1

A SAMPLE DAY IN THE LIFE OF KINDERGARTEN
8:00 – 8:10 Arrival
8:20 – 9:20 Math
9:20-11:20 Language Arts
11:20-12:05 Lunch/Recess
12:05-12:50 Science
12:50-1:20 Social Studies
1:20-1:50 Religion
1:50-2:35 Specials: Media/Library, Music, PE, Art, and Computer
2:40 Prayers/Dismissal

TEXT BOOKS:
Language Arts: SuperKids (Zaner-Bloser)
Math: My Math (Houghton Mifflin Hartcourt)
Religion: Finding God (Loyola Press)
Science Variety of Resources
Social Studies: Nystrom Education Atlas
GRADES 1-4 CURRICULUM

RELIGION
The Catholic faith is taught each day to all students at SJRCS. Students reach a deeper understanding of the faith through instruction that focuses on each and every student realizing their importance as a child of God. Across the grades, students are taught prayers, Bible stories, how to use a Bible, the parts of the Mass, the importance of God, Jesus, Mary, and the Saints in their lives, and the basic teachings of Jesus. The students at SJRCS attain an appreciation for the history of our faith through a church history course, will create awareness to the foundations of the faith through examination of our creed, and continue to grow as Christian individuals as they examine morality and how to apply it in their everyday lives. Students regularly participate in service projects as they reach out to those less fortunate than themselves to fulfill their obligation to those Jesus speaks of when he said: "Whatsoever you do to the least of my people, you do unto me."
Text Book: Students in grades 1-4 use the Christ Our Life by Loyola Press and Family Life series by RCL-Benziger.
ENGLISH LANGUAGE ARTS
The English Language Arts Curriculum for the Archdiocese of Baltimore is designed using the Catholic, College and Career Ready clusters as its foundation. Through literature, this course of study fosters students' Catholic identity, shaping them to be models of Christian living for others. We provide students with a curriculum that is rigorous and rich in literature, oral and written language, grammar, writing, vocabulary, informational literature, and multimedia/technology.
In a typical school day, approximately two hours is devoted to instruction in language arts in each classroom. Developing a strong literacy foundation is a top priority at SJRCS. In the primary grades students attain the necessary skills to become excellent writers. There is emphasis on grammar structure and paragraph writing in second and third grade, and in fourth grade students define the elements of plot and demonstrate the ability to write autobiographies and plays.
TEXT BOOKS:
1st Grade uses Superkids testbooks. 2nd grade through 4th grade students use the Journeys reading series by Houghtin Mifflin. The program teaches children to write. Writing, handwriting, spelling, and simple grammar and mechanics are seamlessly integrated into the reading instruction so children see from the beginning that they can read what they write and write what they read. At all grade levels, textbooks are supplemented by trade books. Loyola Press, Voyages in English are the grammar books used in grades 2-4. Zaner-Bloser handwriting is used in grades 2 through 4.
By the completion of first grade, students will master a variety of skills including:
Use reading strategies to determine central themes, develop understanding, identify and utilize various text features, determine key ideas and describe connections.
Become proficient readers with the capacity to comprehend texts across a range of types and disciplines.
Identify basic features of print such as the alphabetic principle, phonological awareness, phonics, decoding, and blending.
Write opinion pieces, informative/explanatory texts, narratives and should participate in shared research and writing.
Participate in collaborative discussions; communicate effectively using a variety of tools demonstrate efficient relay of information; and produce complete sentences appropriate to the task and situation.
By the completion of second grade, students will master a variety of skills including:
Use an inquiry process to locate, evaluate and use sources based on accuracy, authority, and point of view to explore a question/topic and synthesize and share findings and give appropriate credit/ citation.
Select and use appropriate format to effectively engage the target audience in a topic, point of view, argument and/or creative work.
Analyze and evaluate information, ideas, or objects to develop a point of view, make predictions, or draw inferences
Identify and define a problem-situation and work through a procedure to determine viable and appropriate solutions and next steps and carryout as applicable.
Generate and develop ideas, solutions and connections to create something original/ novel that is meaningful or useful.
By the completion of third grade, students will master a variety of skills including:
Students will use text presented orally and visually to engage in collaborative discussions with peers.
Students will learn to write in cursive, and will learn and apply spelling patterns and standard English language conventions.
Using vowel digraphs and diphthongs.
Compare and contrast historical fiction from various cultures.
Understand the use of dialect within literature.
By the completion of fourth grade, students will master a variety of skills including:
Through reading a diverse array of literature and informational text, students are expected to analyze the structure of the text, compare and contrast, and refer to the evidence in the text, to interpret, integrate, explain, and describe their reading perspective.
Students should show an ability to write informative, opinion and narrative pieces with clear and coherent writing. Using the writing process, students will develop and strengthen their writing skills.
Research skills should be practiced over an extended period of time, using evidence from various text to support, analyze and reflect the research.
Students should participate in a range of class discussions, posing specific questions, paraphrasing text and giving support for their opinions.
Instruction should focus on correct punctuation, capitalization, multi-meaning words, and figurative language.


MATHEMATICS
Students in the primary grades are offered math instruction where children are encouraged to handle and experience number concepts before being expected to perform paper and pencil tasks. Starting in fourth grade, students are ability grouped by class for math lessons. This is done using a teacher constructed matrix of scores and other indicators to determine proper placement. Movement between the two groupings is designed to be fluid to meet the changing needs of our students. Students' math performance is established through the examination of the standards of concepts, computation, and problem solving. Each lesson and activity addresses these specific standards to gain a well-rounded picture of the student's progression through our math curriculum.
Text Books: McGraw Hill, My Math mathematics is used in grades 1-4.
Revised in 2013, the curriculum for all elementary schools in the Archdiocese of Baltimore include the following units:
Counting and Cardinality
Operations and Algebraic Thinking
Measurement and Data
Numbers and Operations in Base Ten
Geometry
Numbers and Operations
By continuing to implement new standards that are challenging, we work to fulfill the promise of quality Catholic education that educates the whole child, both mind and soul.
By the completion of first grade, students will master a variety of skills including:
Understand and apply properties of operations and the relationship between addition and subtraction.
Use place value understanding and properties of operations to add and subtract.
Measure lengths indirectly and by iterating length units.
Tell and write time.
By the completion of second grade, students will master a variety of skills including:
Represent and solve problems involving addition and subtraction.
Work with equal groups of objects to gain foundations for multiplication.
Relate addition and subtraction to length.
Work with time and money.
Represent and interpret data.
By the completion of third grade, students will master a variety of skills including:
Understand properties of multiplication and the relationship between multiplication and division.
Use place value understanding and properties of operations to perform multi-digit arithmetic.
Develop understanding of fractions as numbers.
Geometric measurement: understand concepts of area and relate area to multiplication and to addition.
By the completion of fourth grade, students will master a variety of skills including:
Use the four operations with whole numbers to solve problems.
Gain familiarity with factors and multiples.
Generate and analyze patterns.
Understand decimal notation for fractions, and compare decimal fractions.
Draw and identify lines and angles, and classify shapes by properties of their lines and angles.
SCIENCE
Through close inquiry of life, earth, and physical science, students at SJRCS are given the opportunity to view the world in a different light. Across the grade spectrum, students begin to establish core knowledge in science topics as they discover various topics such as the food chain, plant cycle, sources of energy, weather, the solar system, rocks, land forms, and simple machines. Students are further able to experience the vast world of science as they utilize the state of the art science lab located on the SJRCS campus.
TEXT BOOKS: Grades 1&2 students receive classroom instruction in Science and Social Studies on specific topics through a variety of resources. Grades 3 & 4 use Pearson/Scott Foresman Science 2010 series. All students have access to a digital textbook through Discovery Education.
SOCIAL STUDIES
Social Studies at SJRCS combines elements of history, geography, economics, and political science. Through a variety of instructional methods, students attain a conscious awareness of themselves as individuals and the community and culture in the world around them. All grades deal with the development of map skills, interpretation of graphs and chart data, and cause and effect. Students are also extremely fortunate to attend a school located in an area of the country rich in history, which allows local topics in this area to come alive.
TEXT BOOKS: Grades 1 and 2 use the Harcourt Social Studies series. Grades 3 & 4 study Communities, the state of Maryland, and United States History. Pearson, Communities is used in Grade 3; Houghton-Mifflin, My Maryland, States and Regions is used in Grade 4.
TECHNOLOGY

Weekly instruction in our fully networked computer lab provides, to provide students with the skills necessary to utilize technology in other studies. All classrooms also have computers for student use and have access to 1:1 device, a Makerspace Classroom, and 3-D printers.
STEM
St. John Regional Catholic School was one of the first schools designated a STEM (Science, Technology, Engineering and Math) school by the Archdiocese of Baltimore, due to our advanced curriculum in these areas. We also hold a STEM Endorsement from Notre Dame University of Maryland. The STEM program prepares children for the challenges and opportunities awaiting them in the evolving areas of Science, Technology, Engineering and Math.
ART
Grades K-4 receive weekly instruction in our well-equipped art lab. The art room kiln makes it possible to include pottery lessons. The program helps support regular classroom content. Community outreach endeavors include poster contests and more.
MUSIC
All students, from Grades Pre-K –4, receive weekly instruction, with emphasis on rhythm, movement and song. Students entering into grade 4 may also participate in weekly instrumental band instruction with an instrument of their choice. Fourth grade students can also join the chorus, or Hand-Bell Choir.
Text Books: All grades use McGraw Hill, Share the Music
PHYSICAL EDUCATION

During gym class at St. John we focus on working together as a team. Each week we strive to become stronger by performing push-ups and sit-ups with our focus on learning proper technique. During class activities it is important that students work together and encourage one another through teamwork and good sportsmanship. Each week one class is rewarded on how well they perform together as a team. As Catholics, our focus is to learn that people are different and to respect those differences is important even through physical fitness.
SPECIALS
All students in Kindergarten through grade 4 receive weekly Physical Education, Art, Music, Computer, and Media Center classes.
Ready to Explore St. John Regional Catholic School?
Located in Frederick, Maryland St. John Regional Catholic School is a private Catholic school for students in preschool through Eighth Grade. To learn more about our school and the admissions process for the upcoming school year we encourage you to contact our Admissions Office.