What does PBIS stand for?
"PBIS" is short for Positive Behavioral Intervention and Supports. This language comes directly from the 1997 reauthorization of the Individuals with Disabilities Education Act (IDEA).
PBIS is used interchangeably with SWPBS, which is short for "School-wide Positive Behavior Supports." PBIS is based on principles of applied behavior analysis and the prevention approach and values of positive behavior support.
What is PBIS?
PBIS is a framework or approach for assisting school personnel in adopting and organizing evidence-based behavioral interventions into an integrated continuum that enhances academic and social behavior outcomes for all students. PBIS IS NOT a packaged curriculum, scripted intervention, or manualized strategy. PBIS IS a prevention-oriented way for school personnel to (a) organize evidence-based practices, (b) improve their implementation of those practices, and (c) maximize academic and social behavior outcomes for students. PBIS supports the success of ALL students.
What are PBIS "systems?"
PBIS emphasizes the establishment of organizational supports or systems that give school personnel capacity to use effective interventions accurately and successfully at the school, district, and state levels. These supports include (a) team-based leadership, (b) data-based decision-making, (c) continuous monitoring of student behavior, (d) regular universal screening, and (e) effective on-going professional development.
What does PBIS have to do with school discipline and classroom management?
Effective classroom management and preventive school discipline are essential for supporting teaching and learning. PBIS goes further by emphasizing that classroom management and preventive school discipline must be integrated and working together with effective academic instruction in a positive and safe school climate to maximize success for all students.
PBIS Gold Award at St. John Regional Catholic School
Through PBIS, students at St. John Regional Catholic School are recognized daily by teachers and staff for exemplary behavior. Crosses are earned by students when they exhibit behaviors in line with the school-wide expectations illustrated below. In addition, teachers can nominate students for a St. Francis Award, based on the school-wide expectations, which is given out at our monthly First Friday Masses.
SJRCS has obtained the highest level of PBIS Maryland . The PBIS Maryland Gold Recognition Award is only awarded to those schools who demonstrat sustainability for the systems, practices, and data utilization for school-wide PBIS and can demonstrate that their implementation has had positive effects on both their discipline and achievement data for at least two years.
PBIS Mission Statement at St. John Regional Catholic School
Our school community will demonstrate and encourage others to be courageous, responsible, unselfish and Christ-like.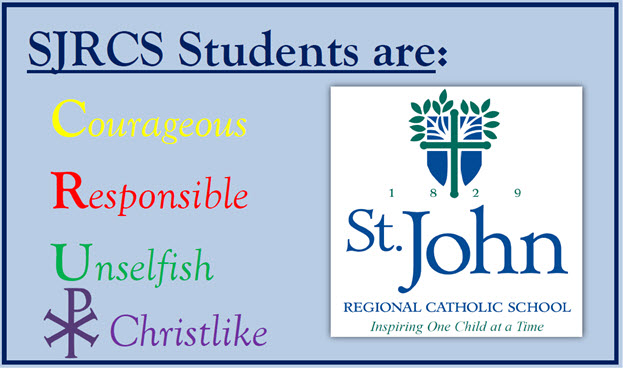 I am not afraid to ask questions
And do the right thing because
I am COURAGEOUS.
I always do my best
And I never give up because
I am RESPONSIBLE.
I put Jesus and others before myself
And I use empathy because
I am UNSELFISH.
I do on to others as
I would have done to me because
WE are made in the image and likeness of CHRIST.